2011 Huntsville Antique Show
Walker County Fairgrounds
September 17th (10pm- 5pm)
& September 18th (10am-4pm)
Admission is $5.00 total
for both days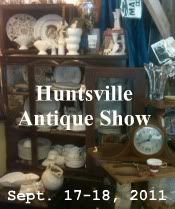 The 8th Annual Huntsville Antique Show is coming up next month! This year's Antique Show will be held on September 17th and September 18th.
Each year the Antique Show gets bigger and bigger, and hopefully this will be the most successful year yet!
The show will feature the following:
HERE
is the official website for the Huntsville Antique Show.
HERE
is a blog for the Huntsville Antique Show.
Both websites contain a lot of useful information and pictures of previous Antique Shows. It looks like a lot of work and time is put into these shows.
For vendor inquiries or other random information, contact Frederic Morris at the following:
Phone: (936) 295-4162 * (936) 581-1331 (CELL)